Having had so many issues with my Edge 510 (and all the warranty replacements) the second I heard about the Garmin Edge 520 I placed my pre-order hoping to have better luck with a newer unit.  Thanks to some shipping snafus it did arrive the day before my Leadville 100 MTB race but I didn't know it until after the race was over.  May have been a good thing as one could never know how any new gear would perform without a proper test and as it turned out while the 510 did fail me in one regard, I suspect the 520 would have suffered at least the same failure.  More on that a little later.
In this review I will contrast where the 510 is better, where the 520 better and where it makes no difference, i.e. they both need improvement.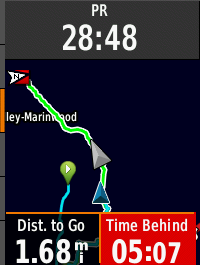 The big new thing with the 520 is actually now also available on the 510 thanks to a software update: live Strava segments (with premium Strava membership). With this feature while riding any segment that has been marked as a favorite in Strava it will appear on the device when you are within 500 ft of the start and it will track your performance along the segment so at any point you know exactly how far ahead or behind you are on time to beating your PR (personal record), your goal, your top followed racer or the top time overall for that segment, aka the KOM (King of the Mountain).
Many probably were not aware but this was possible on the 510 with a bit more leg work with websites like segment builder that allow you to take a segment from Strava with it's url or identifier and download a file you could put on your device. The new Garmin feature on the 520 and an updated 510 eliminates this conversion process but you basically end up in the same place – segment data on your device that it uses to track your performance in real time against the time you've specified.  I had used this feature and for the same reason that still exists I basically quit bothering with it. More on that in a moment, coincidentally the same issue I experienced with the 510 in Leadville.
What's better about the 520?
No more touch screen
In my opinion the #1 thing that is better about the 520 also hampers it but I still will say it's better because the touch screen on the 510 annoyed me that much.   The touch interface seemed to almost never work correctly. Granted I *always* wear gloves but even the ones that have capacitive finger tips that work correctly with my touch screen smartphone would not work correctly with the touch screen.
Bigger, brighter screen
Sort of the same thing but the screen clarity and brightness is 10x better on the 520 – even when running the brightness low which is more important than before (see where the 510 is better below).
Better System Navigation
Once you get used to the difference which is pretty jarring at first it seems better. Navigating through activity screens is vertical instead of horizontal and getting back can be, well, different but there are some things that are way easier to do like calibrating my power meter.
Onscreen Text Notifications and Caller Id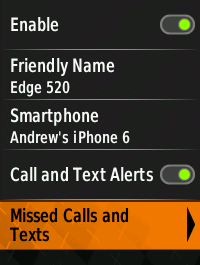 Once I figured out how to get it working the onscreen text messages and caller ID feature of the 520 is extremely useful.  You'll see the alert for a text or call with the sender's name or caller ID as it would appear on your phone pop up on the 520's screen. Unfortunately I haven't figured out any way to navigate directly to the message while the alert is up so getting back to the menu to the left here can be quite a few button taps but waaaaaay better than stopping only to find it's not urgent and still better than my previous strategy of having Siri read the texts to me.
For those who are interested in that with an iPhone (I'm sure other smart phones like android have a similar capability) if you are wearing headphones with start/stop controls on the wire you can hold that control and Siri will activate. From there I just say "Read messages" and it will read the new messages to you – if you have a sufficient internet connection.  That's one way this feature on the 520 is superior.  The other way is with selectivity of which messages from which people you want to hear/read. The final way is emoji-heavy texts. Haven't seen them show up on the 520 yet but when Siri reads them it can be annoying: "praying hands with light skin tone, praying hands with light skin tone, praying hands with light skin tone" – being one of my wife's favorite selections.
For anyone having trouble getting this working on the 520 like me the key is to make sure you pair the right device connection – the 520 has 2 and you must connect to both! More annoying the connection you need to pair for this integration (BLE_…) seems to never hold and I've had to re-pair it before every ride – when I remember to do so that is.
Smaller
The 520 is smaller than the 510. Personally I like this, especially since the actual screen dimensions on the 520 seem to be larger (same width, slightly longer). Also contributes to one of the shortcomings of the 520, however (see below).
Actual Maps
Both devices support the ability to download a course to the device but they will only tell you if you're following the course or if you've strayed from your predetermined path. They'll both give you turn cues if your course file has the necessary points specified but only the 520 supports actually laying your current position atop a map. By default the map provided is very low on detail and I even noticed a pretty glaring mistake with it on a recent ride where it indicated I was north of a major highway when I absolutely was not. Supposedly there is a way to put more detailed map information on the device but I have yet to explore this and pessimistic that off-road maps will be worth it but I will report back when I've had a chance to use them.
Micro USB
This may seem practically unworthy of mentioning but given my experience in Lake Tahoe for a race this summer I feel it is worthy.  The 510 uses a Mini USB cable for charging and data transfer to a computer while the 520 uses a Micro USB. Why is there an advantage to the 520 here? Availability of cables. I had to go to three separate stores to find a mini usb cable in Tahoe when I realized I'd forgotten to pack mine and the device hadn't been charged – and that one was a fancy multi-adapter where one was mini, the others micro and for the old school iphone/ipad. Micro USB is much more common these days and you'll find spares in emergency situations – whether buying or borrowing – more easily.
What's better about the 510?
Longer battery life
Batter lasts longer on the 510, hence I've kept the brightness at 70% on the 520. Most of my rides are pretty short but I do longer rides and in the past have been screwed even with the 510 because I ran the battery down and forgot to plug it in. I figure I can get one long ride (6+hrs) and a normal ride (2-3hrs) on a charge if I don't burn the battery with unnecessarily high brightness. Certainly the brighter and bigger screen contribute to this but in making the device smaller overall it's fair to assume the battery is simply smaller as well.
More Controls
There are some things a touch screen allows you to do which you CAN NOT do on the 520. One pretty important one if you are using the segment feature is zoom in on the segment map. That's right, the 520 doesn't do this but the 510 does (though figuring out how was by complete accident).
On the 520 you get the full segment – even if it's 50 miles – on the screen at the start and the "auto-zoom" nature will get closer as you get farther into the segment but for long segments it's still useless. And since you can't simultaneously run a course (which you can zoom on the 520) you are screwed if you had planned to try to use the device map to follow an unfamiliar and long segment. On the 510 the zoom controls can be surfaced by tapping on the map page screen in the right place.
Yes I contacted Garmin about this and it's confirmed with no plans for a future change to this.  Pretty weak but truth be told until they fix the segment feature I'm not really using it much outside of segments that I'm familiar with and know to be fully working anyway (which is not many, btw).
More Favorable Altimeter
While I've had my issues with the altimeter on the 510 during rainy storms I've gotten used to the total ascent numbers it's given me for the local climbs and the 520 is extremely stingy with the altitude. From what I've seen it's been understating my total ascent for various local rides by around 10%. I have a friend who recently claimed it cost him 500 ft of climb in a ride that was under 2500 ft!
Case in point: following my morning ride today which is route I frequent the 520 awarded me with 2,218 ft whereas very nearly the same route on a ride last year with the 510 calculated 2,457. I say "very nearly" because last year I didn't climb to the peak that I did today which would have put last year's figure over 2,500.
Thankfully Strava has an elevation correction feature which gets me closer to what I expected given my 510 experience on the same courses but those numbers were still higher, at least for my local rides – as evidenced by the Strava activity for today with a corrected elevation of 2,348.
Lap and Start/Stop Button Position
The lap and start/stop buttons on the 510 are on the top of the device but on the bottom edge of the 520. I'm constantly accidentally hitting these buttons on the 520, something that never happened with the 510. Hopefully this just takes getting used to but if I don't think about it it happens every time I remove the device from the mount.
What's the same?
The easy answer is "everything else" but I'll document here the things that I think  should have been improved with the 520 or the software update. Consider this my airing of grievances with Garmin, perhaps.
Live segments simply don't work
…the majority of the time, for me anyway. Here's the problem: anytime you deviate from the segment the Garmin quits tracking it and there is no recovery. Unlike courses which you can rejoin there is no rejoining a segment without going back to the start.  In my experience 8 out of 10 segments fail at some point.  And more importantly, 10 times out of 10 Strava accepts my performance as completing the segment. This definitely hurt me in Leadville as I was really looking forward to managing my pacing with the segment feature.
So the big new thing about the Garmin Edge 520 is the live Strava segment tracking which, for me, fails 80% of the time.  Garmin ought to fix this one. Their support indicated they've fielded many complaints but have no plans at this time to address the issue. I sincerely hope that changes. If not they should stop marketing it.
Connectivity with the mobile app
How great would it be if when you finished a ride the data automatically uploaded to Garmin connect and then through integrations to Training Peaks, Strava or whatever immediately and wirelessly?  It would be awesome! And this is how Garmin intends it to work, sadly it hardly ever does for me with either device. It seemed to work a little better with the 520 at first but whatever gremlins were preventing my 510 from working as intended have found their way into the 520. I've all but given up at this point and just suck it up and schlep the 520 to my computer and connect it up allowing Garmin Express to handle what the mobile app can't apparently.
Crashing
I'm not referring to my crashing on the bike but that of the device operating system. Twice in the last four rides with the 520 I've experienced crashes. This is not new to the 520, I've experienced many, many crashes with the 510 over the years I've used one. In fact I believe I was on my 4th or 5th device – all warranty replacements thankfully – and about half of those were due to OS crashes that couldn't be explained or fixed.
I am thankful that even when you have to hard-reboot the device by holding the power button long enough for it to turn off and then turn it back on that the ride loads up in paused mode flawlessly.  From there tapping the start button will get you right back on track. One warning here though from my 510 experience: If you want the ride to load into Strava make sure you don't deviate too far from the crash position because I had a ride where it crashed and I didn't realize it, started it back up a mile or so later and Strava refused to accept the file as it considered it corrupt.
Conclusion
I'm sticking with the 520: the screen alone does it but the text alerts are also a big deal for me – but only because Strava is correcting my elevation. Tracking how much I climb is important to me and it would bother me enough to go back to the 510 if it weren't for the Strava correction feature.
I'm holding onto my 510 in the event that I have to send the 520 back as was my experience with the 510 so many times and in those occasions I had to resort to the Strava iPhone app as my back up while I waited for the replacement which given they don't send it until they receive the failed one could easily be over a week.
If Garmin fixes the live segment feature and makes it possible to zoom the map I'll utilize it a lot more. I've pretty much given up on the mobile app at this point so fixing the altitude calculation would make me most happy. That said they should fix the crashing first.